The Best Burgers in Delhi to Pamper Your Palate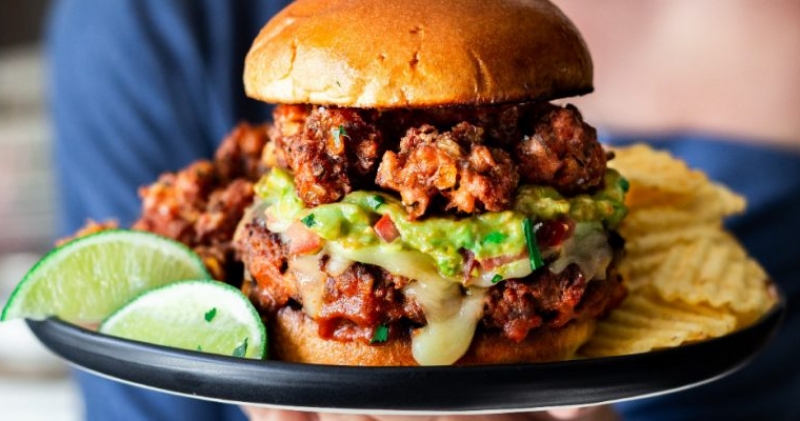 Comfort foods are the best options to boost your mood. Everyone's favourite, the latest on the list are the best burgers in Delhi - juicy, loaded, flavorful, and filling. As our daily schedules get busier and busier, we need to keep our hunger pangs satiated and our flavours satisfied. Here, burgers come as our saviours. But most of the time we savour these delights and overlook to give them their credit. So, it's time to give them what they deserve - appreciation with an insight into the most loved in the capital city and around.
Mobar Burger at Monkey Bar
Packed with a huge patty, mayo, cheese slices, lettuce, tomatoes, onions, and delectable rashers; Mobar burger holds these fillings in the bun made at the eating joint itself. One of the much-loved delicious burgers, this one is drool-worthy! Team it up with a fruity cocktail and savour it amidst peppy vibes.
Locations: Vasant Kunj and Connaught Place
Legendary Burger at Hard Rock Café
Chargrilled monstrous meaty patty with oodles of cheddar cheese, veggies, and yummy bacon make this Legendary Burger one of the best burgers in South Delhi. Huge, juicy, mouth-watering, and satiating; this burger surpasses your gourmet experience. Add it to your 'to-eat' list and you won't be disappointed.
Location: Saket
Divine Delhi Burger at Johnny Rockets

Let your gourmet fancy take wings here with its irresistible burgers with luscious patties. You are spoilt for choices here. The most loved burger here is Divine Delhi burger. It is a tasteful treat full with grilled tandoori spiced chicken supreme along with tomato, onions, and lettuce. Enjoy a burst of flavour with masala mayonnaise and flavoured curd.
Locations: Saket and Connaught Place
Ultimate Bacon Burger at Chili's Grill & Bar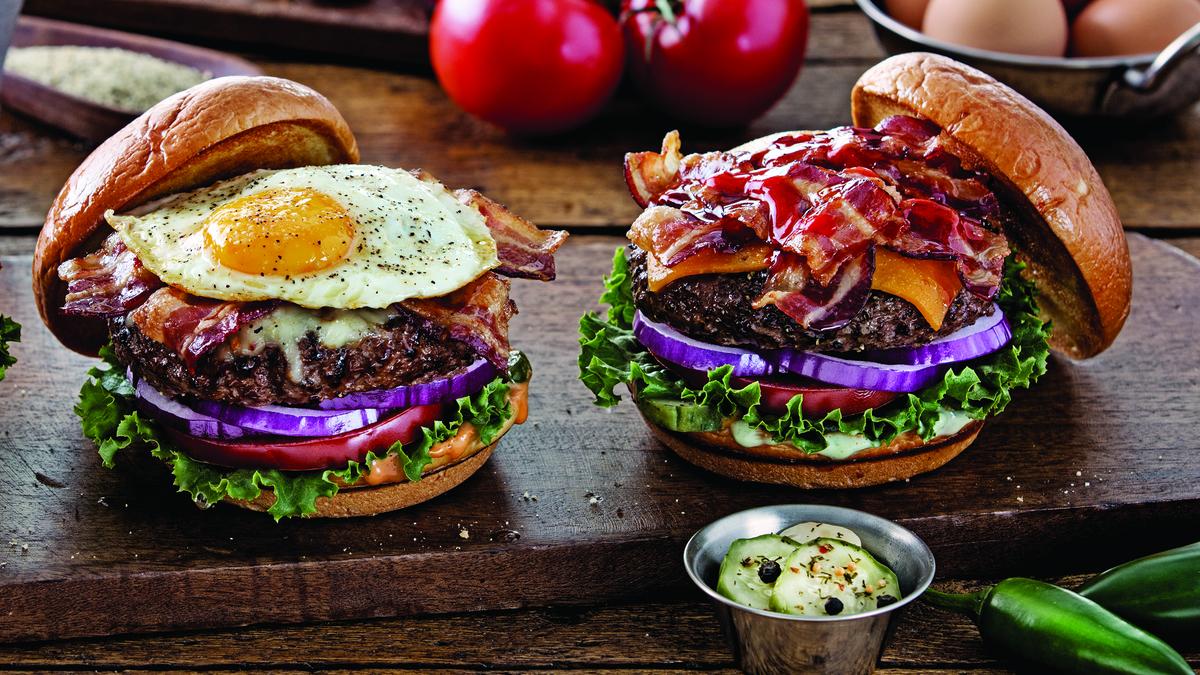 Dig into the togetherness of crisp patty, double meaty layers that can be topped by one more layer of your choice. Choose to top it up with an extra meaty layer, eggs, or cheese. Step in by yourself or with friends, this is one of the best burgers in Delhi and won't disappoint you.
Locations: Connaught Place, Saket, Vasant Kunj
Manchurian Burger at High on Burger
If you have diverse tastes that comprise Manchurian and burger both, this burger is a sheer delectable delight for you. Pick from its vegetarian and non-vegetarian range – both. Listed among the best burgers in South Delhi, it takes you to a flavorful paradise as you go om nom nom!
Location: Lajpat Nagar
Beer Battered Fish Burger at Smokehouse Deli
Do you have a fish fetish? Good news! You can indulge in the zest of well-cooked fish with this burger, enhanced with peri-peri and mayo melt. Try it for once and you'll be coming back for more to relish the flavour of this toothsome delicacy.
Locations: Connaught Place and Khan Market
Mac N Cheese Burger at Burger Singh
This burger is a foodie's heavenly delight! Surrender yourself to a portion of lip-smacking macaroni inside a burger bun from which cheese drips down. Are you salivating already? Rush to the nearest outlet to grab your bite. If you are more towards desi burgers, this place has a variety for you as well. Nani's Rajma Burger and Bihari Ghost Burger are other remarkable delights to try for the best burgers in Delhi.
Locations: Connaught Place, Khan Market, Kalkaji, West Punjabi Bagh, Vasant Kunj, Dwarka
Granny's Indian Butter Chicken Burger at Granny's Burger
With its name, you don't have any other reason to munch on this burger. Amalgamating two of the most drool-worthy delights, this is among the best things a burger can offer! Catering to Delhi-ite's inclination towards butter chicken, this is counted among best burgers in Delhi and something you can't miss out on.
Location: East of Kailash
Kuzart Special Lamb Burger at Kuzart Lane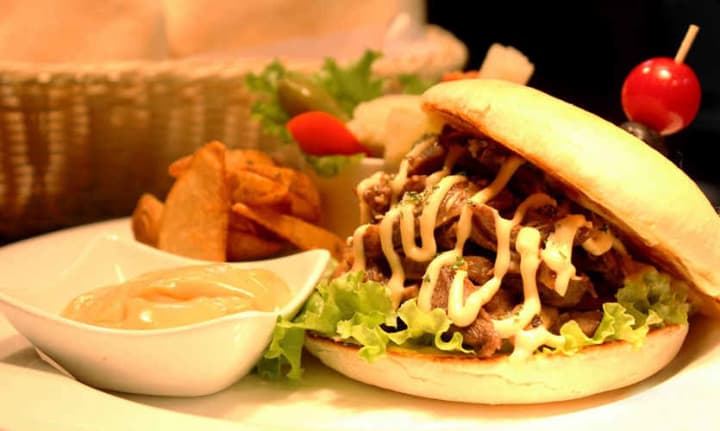 Kuzart Lane is a lesser-known joint, located in the narrow market of Adchini, however, nothing about this cafe is 'narrow' or 'little'! They do a variety of shakes, pasta, Tex-Mex & steaks, but the main attraction is their burgers. The buns are sliced thin (really thin) to make the inside of the burger the true hero & to absorb the delicious sauces which the patties are basted in. Their two biggest burgers are the BBQ Chicken Burger and the Kuzart Special Lamb Burger. Go try!
Location: Sri Aurobindo Marg, Adchini
Purple Floyd at Bun Intended
For that perfect movie night, ditch those regular French fries or potato/paneer burgers. Try this aubergine burger for once and it will be your all-time favourite. This is selected among the best burgers in South Delhi for a reason. Heaps of grilled aubergine, lyonnaise potatoes, chipotle mayo, parmesan cheese, and lettuce make it an irresistible choice.
Location: East of Kailash
Mutton Galouti Burger at Fat Albert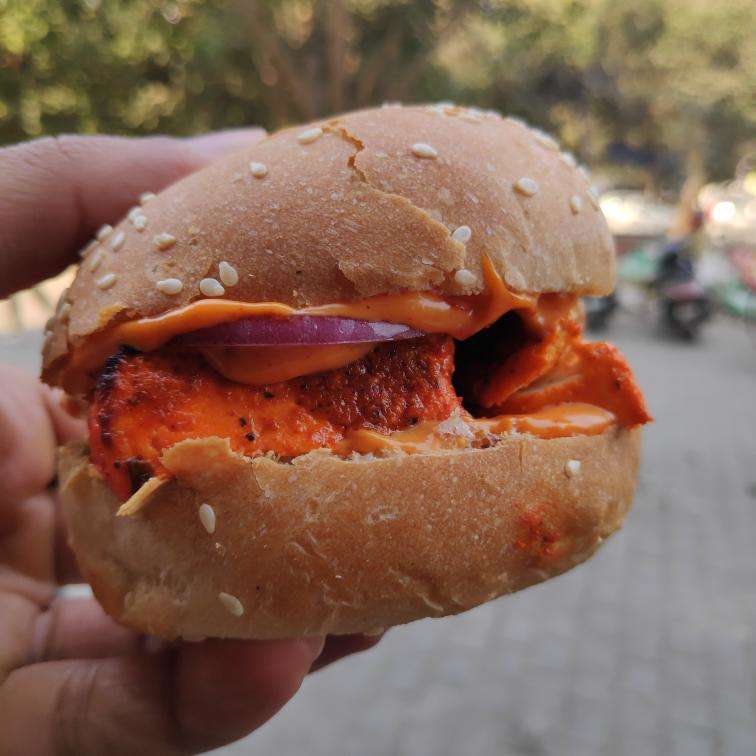 Do you search for Indian flavours in your food? If yes, this eatery is meant for people like you. Go for this burger. As the name suggests, feel the irresistible melt-in-the-mouth Galouti kebab giving you a burst of flavours, set between succulent buns!
Location: Dwarka
Are you drooling? Rush to the nearest joint to grab your favourite among the best burgers in Delhi. Let your senses surrender to the deliciously grilled patties bathed in savoury sauces, cheese, pickles, and other condiments sandwiched between fresh fragrant buns. Feeling low? Dig on these cushiony and juicy bites. In every mood or time, you are sure to have a gala experience with these indulgent delicacies.