6 Best Music Schools In Delhi that will take you one step closer to your dreams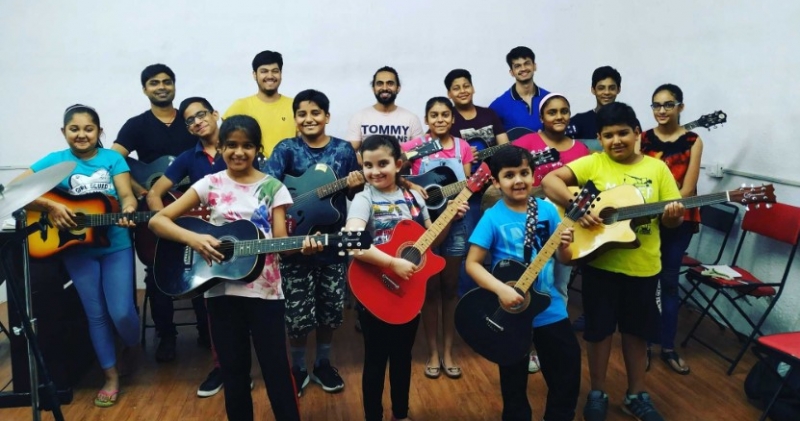 Music is a form of expression which brings the emotional side of the artist to the surface. Most of the people do not see music as "career driven" but the prospects are getting changed and a career as an artist is being seen lucrative and rewarding. However if you are still on the threshold and looking for the right anchor that shall help you to achieve your dreams, then have a look at the below mentioned music institutes in Delhi which have a track record of producing great talents of the music industry.
Delhi School of Music, Chanakyapuri
Delhi School of Music Chanakyapuri is a place where one could master western musical instruments like Guitar, Piano or Drums and Western Classical music. It is the best music school in South Delhi which promises to make its students proficient in the instruments like Drums, Keyboard, Saxophone, Recorder, Flute, Clarinet, Cello, Guitar, Violin Piano, etc.
It was established in 1966 by the Delhi Music Society and now it has become the premier institution in the arena of western classical music in Delhi. It is one of a kind in entire northern India. The fee varies in the range of Rs. 8000 - Rs. 11000 per quarter. The institute also entails good reviews.
Address: 8, Nyaya Marg, Block C, Chanakyapuri, New Delhi, 110021.
Contact number: 011-26115331
Triveni Kala Sangam, Mandi House
With a rich history of music and dance, Triveni Kala Sangam is one of the most famous music schools in Delhi. Established in 1951, the school initiated its journey with just 2 students in a small room above a coffee house in the area of Connaught Place. Today it is flourishing as a non-profit registered society with a sturdy art complex. The school imparts lessons in Indian classical music only. The nearest metro station is Rajiv Chowk.
Address: 205, Triveni Kala Sangam, Tansen Marg, Todermal Road Area, Mandi House, New Delhi, 110001.
Contact number: 011-23719470
Sangeet Shyamala, Vasant Vihar
Established by founder-director Som Tewari, Sangeet Shyamal has earned a great reputation after its orientation in 1971. The founder's earnest and venerable efforts in shaping the musical aspirations of several enthusiasts brought the fame that this musical institution enjoys today.
In the field of music, painting, fine arts, martial arts, and Yoga, this multidisciplinary music academy in Delhi transmits the best knowledge and efforts to its students. It is a place where teachers don't hesitate to provide their every ounce of knowledge to the students which means that you won't have to compromise on your learning. Such things made it the most renowned and respected musical school in New Delhi.
Address: 11/6, Vasant Vihar, Block A, New Delhi, 110057.
Contact number: 011-41826025
Shriram Bharatiya Kala Kendra, New Delhi
Set up in 1952, this music & dance school teaches Indian classical music & other performing arts to the students. Shri Ram Bharitya Kala Kendra is one of the leading institutes in the lineage of finest musical institutions in the entire nation.
Considered as the epicenter of music and musical learning, this old institution is thoroughly loved and admired by the appreciators of art. Mostly renowned for classical vocal, light classical, tabla, sitar and sarod learning, Kendra has grown its roots strongly. Over the years of its grand and glorious musical history, the Kendra has conferred some prodigies in the field of music in the form of Ustad Hafiz Ali Khan, elder Dagar brothers, Guru Purushottam Das, Pandit Amarnath and not to forget, Ustad Amjad Ali Khan.
Address: 1, Copernicus Marg, New Delhi, 110001.
Contact number: 23387132, 23386428
Saraswati Music College, Safdarjung Enclave
The identity and fame of this music school could be easily deciphered with the names of its outstanding alumni. Musical legend, Pandit Jasraj and one of the greatest playback singers of all times, Mohammad Rafi are the shining stars of Saraswati Music College. This music college can inculcate love for Indian Classical or Western Classical music in any person. The college offers best piano classes in Delhi.
Classical Vocal Classes, Bhajans and Ghazal lessons are being offered along with music instrument classes of various instruments like Sitar, Dholak, Tabla, Harmonium, Drum, Violin, Keyboard, Saxophone, Dholak and Mouth Organ since 1924.
Address: A-1/226, Safdarjung Enclave, New Delhi, 110029.
Contact number: 011-30060000
Gandharva Mahavidyalaya, New Delhi
Gandharva Mahavidayala has acclaimed the title of being one of the best classical music schools in Delhi. Its reputation as being the catalyst for promoting and disseminating the art of Indian music styles and Classical dance in the whole nation is something every person knows about. The school was established in 1939 to popularize the learning of Indian classical music instruments like - Sitar, Drum, Guitar, Tabla, Flute, Sarod etc. If you wish to learn any of these instruments, this is one of the best music schools that can find. The institution also offers classes of Indian dance forms like Kathak, Bharatanatyam, & Odissi.
Address: 212, Deen Dayal Upadhaya Marg, New Delhi, 110002.
Contact number: 011-2323379
Other Recommended Music Schools Nearby Delhi
If location is not a constraint, there are some other good music schools in the area of Gurugram and Noida. They are equally competent as above mentioned music schools of capital city.
Lorraine Music Academy
This famous music school offers a wide array of courses. You could learn how to play the Electronic Keyboard, Piano, Guitar, Drums, Violin, Singing, or Band Show, every activity is performed in the school. If you have a fascination towards world music then this music academy would be the right place for you to seek admission. The internationally qualified faculty of music diligently teaches western pop, rock, jazz, classical music to children and adults both.
Address: Building No. 8, Tower C, 12th Floor, DLF Cyber City, Gurugram, Haryana-122002
Contact number: 09910143344
Global Music Institute
It is the first music college in India which is associated with Berklee Global Partners. An initiative of talented Balani brothers- Aditya and Tarun, the Global Music institute is known to promote modern day music in the country. The Institute gained respect over the course due to its in depth focus on core musical training- theory, harmony and ear training
Aadress: 7A, Knowledge Park III, Greater Noida, Uttar Pradesh, 201310
Contact number: 08447239949
Asian Academy of Film & Television School of Music Production
Asian Academy of Film & Television (AAFT) is a world-class film school situated in the Film City of Noida. The management of the school ensures placement of its students after making them equipped with the right kind of knowledge. The fee structure of academy is expensive comparatively.
Address: FC-14/15, Film City, Sector-16A, Marwah Studios Complex, Noida, Uttar Pradesh, India.
Contact number: 0120-4831100
FAQs
Q1)
Are there any good music schools in Delhi?
Yes, there are renowned music schools in Delhi each specific to the genre of music.
Q2)
In which type of music 'Delhi school of Music' is famous for?
The school is best for excellent western classical music learning.
Q3)
Which is the best music school in Delhi for vocal Indian classical music?
Gandharva Mahavidyalaya holds the utmost reputation in the genre of Indian classical music.
Q4)
Is there any good music school near Rohini?
'Music school of Delhi' Pitampura is a good option for beginners.