Champa Gali Saket - The New Fad in Delhi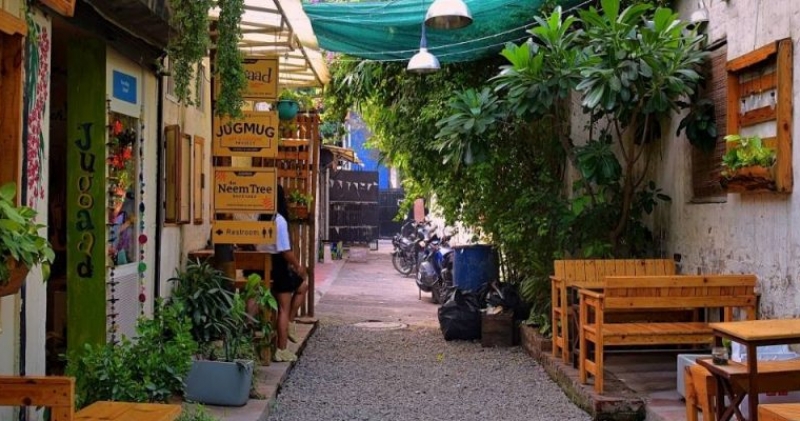 Champa Gali Saket is a gem hidden in the tangled lanes of Saidulajab. It would not be wrong to call it a little paradise in the vicinity of the capital city. The spot is gaining momentum over time and has created quite a buzz with its offbeat cafeterias, restaurants and art galleries. It is home to some itsy bitsy coffee shops, wacky organic stores and amicable ambience. No cafe in Champa Gali serves alcohol but it definitely creates no void in its traction. Poetry evenings, music gigs, book launches and a lot more keep happening here, so a plan should be made accordingly to have a thrilling experience.
A quick getaway in our own Delhi, Champa Gali is a different world away from the chaos and hustle bustle of lives. It would be considered a sin if you've never been there.
Champa Gali Saket Address
The address to the lane is Khasra number 258, Lane 3, Saiyad Ul Ajaib. It is located in the urban village of Saidulajab.
Champa Gali Nearest Metro Station or Metro Route
'Saket' metro (Yellow line) is the nearest metro station which is half kilometer away from Champa Gali Saidulajab village.
Wondering How this Thriving Place got such a Peculiar Tag?
The place started being called Champa Gali after Blue Tokai, a cafe with an on-site roastery brought in many Champa plants. It might be surprising for you that now famed for its voguish Parisian alleys and bucolic setting; the street had cowsheds and furniture shops till a few years ago.
Cafes in Champa Gali Saket
Jugmug Thela
The roots of Champa Gali can be traced back to the days when Jug Mug Thela was opened. The tea stall found its inspiration from the Chaupal culture of villages. The cafe has wooden seating in its quaint backyard under Neem trees while adjacent to it, there is a reading section where a peaceful reading session could be enjoyed while sipping on hot tea prepared with aromatic beverages. The pocket friendly price of eateries is an add-on. Masala Chai is a must try there.
Blue Tokai Coffee Roasters
This cafe cum roastery lures people with its rustic old world charm and offers one of the finest freshly brewed coffee to its customers. Brewing sessions are also organized twice a week in the roasting area. This is one of the best cafes in Champa Gali, a stop by is evident while you are there on your culinary trip.
Social Street Cafe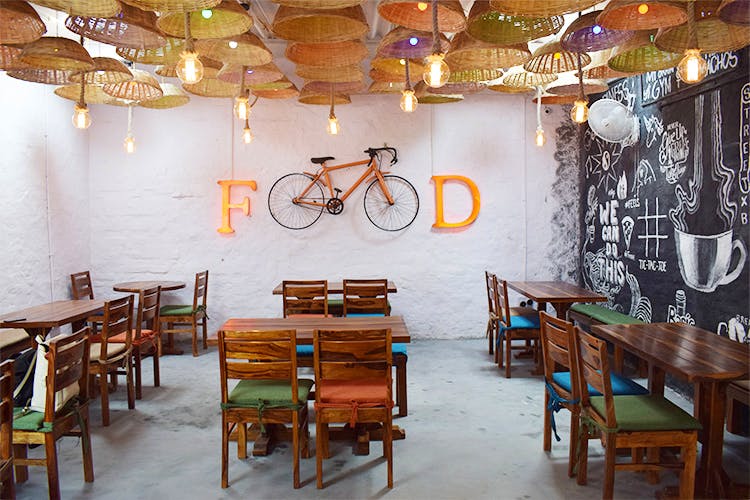 This is the first cafe you will see in the street of Champa Gali. Saket. The glitzy decor and photogenic interior attract people to its threshold. The quirky bamboo baskets stuck on the ceiling portray an idyllic background for an instagram post. Social Street Cafe Champa Gali has the most innovative decor amongst all other Champa Gali restaurants.
Patta Cafe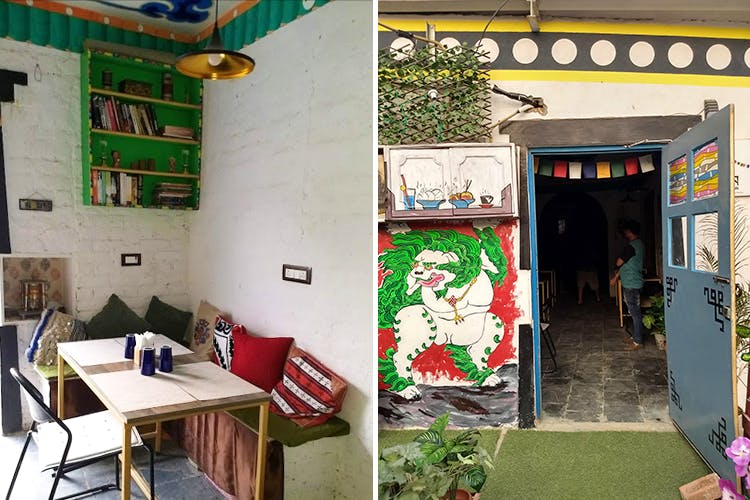 Newly opened Patta cafe furnish a mountain cafe experience in this scorching heat of Delhi. If you adore Himalayan food then this dainty eatery joint is your go to place to savor authentic Tibetan, Naga and Nepalese cuisine. The menu is a blend of some fusion dishes that appeals immensely to your taste buds.
Pho King Awesome
As exquisite as its name, Pho King is a bijou restaurant which also has outdoor seating lit up with fancy lights as sun sets down. Painted in hues of blue and white, the spot could be located easily with its exclusive appearance and aesthetic setting.
Cafe nearby Champa Gali
Rose Cafe
The most unique thing about this cafe is its pastel blue and pink colored theme which has been designed in Victorian style. The mild ambience encompassing the cafe bequeaths it with the laurel of being a perfect location for classic date.
The address is 264, Westend Marg, Saiyad Ul Ajaib Extension, Sainik Farms, New Delhi. It is about 2 minutes walking distance away from Champa Gali.
Foresta Bistro and Cafe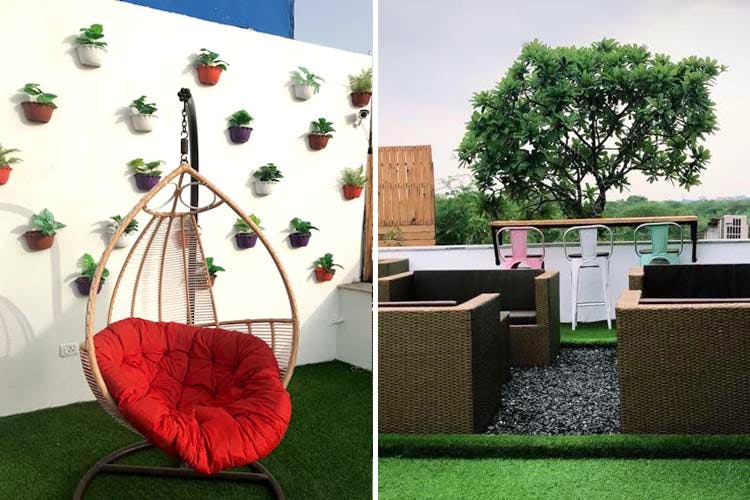 Nestled right at the edge of the lane you take to reach Champa Gali, Foresta Bistro is the only rooftop cafe near the most sought after Champa Gali. The cafe has indoor seating as well. The colorful walls and portraits hung add delight to the excitement of visitors. Plan your culinary trip on a good weather day and gulp scrumptious delicacies down with a picturesque view all around.
Cafe Hameen Ast-o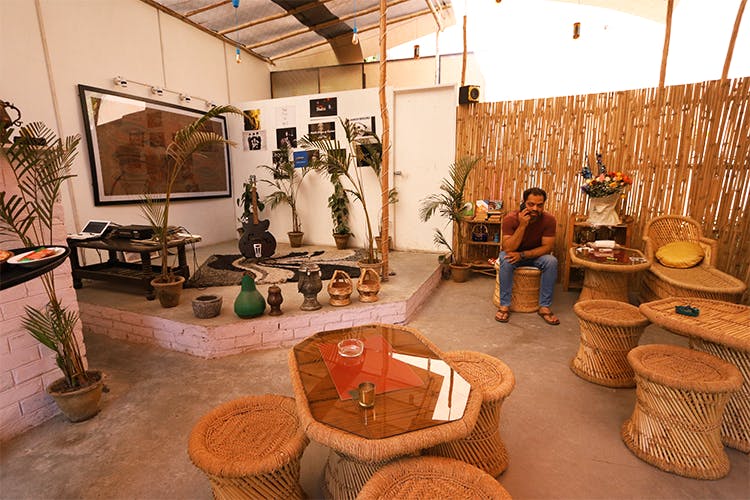 Perched on Westend Marg, this cafe exhibits authentic Kashmiri vibes and offers bona fide Kashmiri cuisine with an array of hookah flavors. The open air backyard with wooden seating lit brightly at dusk and makes it ideal for an evening bash.
Shops for Shopping in Champa Gali
Champa Gali is just not about scrummy food cafes and great ambience, it's an experience of ecstasy. The Gali beholds some contemporary knick knack stores that you would not be able to stop drooling over them.
Jugaad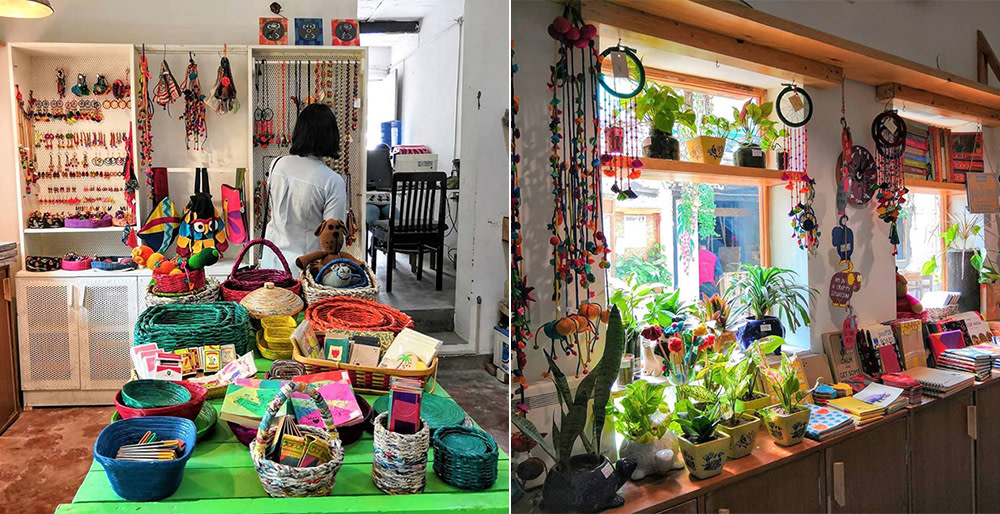 The stall offers some great pieces of handicrafts. All the money that you squander at this nook goes to a cause. You can get your hands on some exquisite handmade trinkets, books, shrugs, bags and home decor items.
People Tree - Design Studio
You can grab almost everything under one roof in this studio-cum-shop. From Khadi apparels, hand printed T-shirts, quirky jewellery to independently published enriching books, there's nothing that you wouldn't find here. The shop also proffers organic skin care products and artsy stationary produced with natural and bio degradable raw materials.
Pro Advices
Prefer travelling by metro/auto/cab since parking could be an issue.
Check out the official Facebook page of Champa Gali Saket before visiting as a lot of cool events keep happening there.

FAQs

Q1)

What is the Opening and Closing timing of Champa Gali Cafes?

The timing is 11 AM - 10 PM.

Q2)

Which is the nearest metro station to Champa Gali?

Saket Metro Station (Yellow Line)

Q3)

Is there any entry fee to Champa Gali?