5 Cheapest Book Market In Delhi That Every Bookworm Should Know
The advent of online bookstores brought a whole new horizon of books at single click in the comfort of your bed but scanning for books in the book stores is an unparalleled experience altogether and no book lover will ever compromise on reading by using Kindle or another E-reading source.
Delhi is home to some cheapest books market where you could easily locate any sort of print media, be it first edition hardbacks, rare journals, books on history and fashion to comics and children's magazines. But do not forget to hone your bargaining skills before you visit these street-side laid books market. The more you negotiate the better deal you will crack.
Book Market In Delhi
Now, it's time to take you on a virtual tour to all the famous Books Market in Delhi.
1. Daryaganj Book Market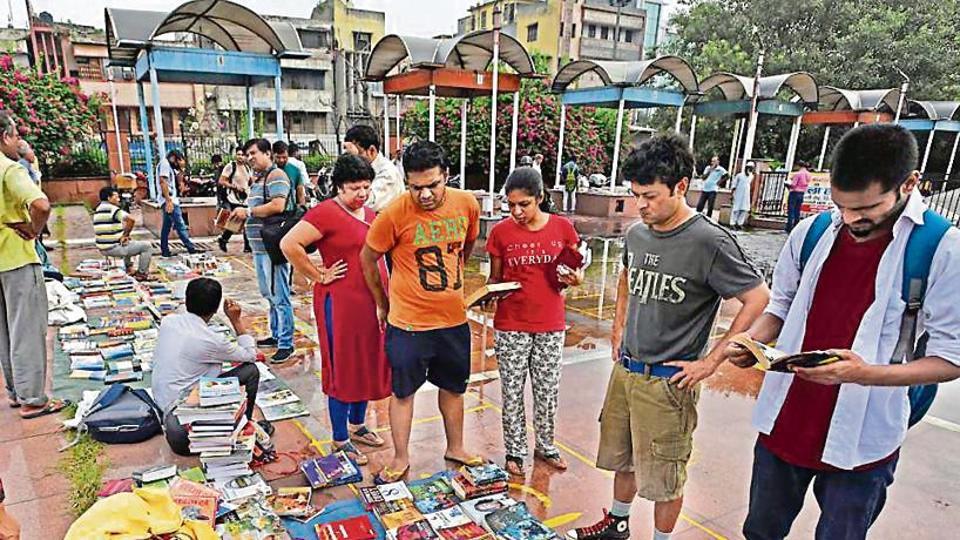 The iconic sunday book market Daryaganj in Delhi got shut in the month of July following the Delhi High Court's order but to a book lover's delight, the book bazaar has once again come to life. The market has moved to a new home at the Mahila Haat ground opposite Broadway Hotel near Delhi Gate metro station on Asaf Ali Road, Chandni Chowk. The market has been one of the best second-hand book markets in Delhi for decades now and if you are having a hard time in locating some book, just come here.
If you hunt around this very old and famous Sunday books market in Delhi which is more than 50 years old, you might get your hand on some famous reads, first editions and even freaking signed copies! That's cool, right? If you call yourself a Bibliophile and never been to this market then make sure to plan a visit soon.
Nearest Metro Station: Gate number 2 & 3 Delhi Gate Metro Station
Opening and Closing Timings: 6 AM - 6 PM
Famous For: - All kind of textbooks at dirt cheap prices
2. Nai Sarak Book Market
Any writer, any edition or any subject, you name it and the market shall offer you the same instantly. Perched amidst the heart of old Delhi, the lane was named Nai Sarak as it was a relatively new and broad road constructed during the British era. This whole street in Chandni Chowk is dedicated to only books and all kind of stationery items.
The amazing fact about the shops here is that they not only provide books at heavy discounts but also give written assurances of buying back books at 50% of the textbooks. The market remains open every day except Sundays. Bargaining is the mantra here, so try getting an off as much as you can.
Nearest Metro Station: Chandni Chowk metro station which is about 1 km away from Nai Sarak
Opening and Closing Timings: 11:30 AM - 6:00 PM
Famous For: Academic Books, Engineering Books, Computer Books and Medical Books
3. Janpath Book Market
This little shop residing in the middle of the little flea market of Connaught Place is one stop where you can both buy and sell books. Apart from getting your hands on new books and novels, you can ask for second hand books also. The shop is a paradise for bibliophiles in the streets of Janpath Market. So anyone who plans to exchange their old, used books for new ones, Janpath is the right place for you. Clear your bookshelves and replace your old books with the new ones.
The market remains closed on Sundays.
Nearest Metro Station: Gate number 5 of Rajiv Chowk Metro Station.
Opening and Closing Timings: 11 AM - 8:00 PM
Famous For: Exchanging old Novels with the new ones
4. Connaught Place Book Market
Connaught Place is amongst the best hangout destinations in Delhi. Along with decades-old bookstores, the place has a number of food outlets that satisfies your cravings after you get exhausted with your search for books.
Almost every genre of book can be grabbed here that too at throw away prices. So next time you are in Connaught place, do not forget to hit the shops in the lane adjacent to the PVR Plaza and another one on the roadside of F-Block.
Nearest Metro Station: Rajiv Chowk Metro station
Opening and Closing Timings: 10 AM - 8:30 PM
Famous For: Cheap books (The minimum price is Rs. 80 while the maximum is Rs. 200)
5. Mukherjee Nagar Book Market
Since Mukherjee Nagar is a hub of UPSC, SSC and Judiciary exam aspirants, the books market there is one such place where you could find any material related to Civil Service, PAC or any other Govt. Job exam. This is mainly a competitive exam books market but that does not mean other genres of books are not available here.
Nearest Metro Station: GTB Nagar Metro Station
Opening and Closing Timings: 11 AM - 8 PM
Famous For: Government exam preparation related books and magazines
Some other books market
Vasant Vihar Book Market is a small market where you can find discounted new books as well as second hand books in the shops.
Shankar Book Market is another place which remains crowded with book lovers. The bookstores not only sell but lend the books also to the readers. Some shops even buy old books in Delhi. It is near to the Barakhamba Metro station and stays open till 8 pm.
Katwariya Sarah book market is located near to IIT Delhi and is known as the engineering books market. You can buy any sort of academic books from here.
FAQs
Q1)
Where in Delhi can I buy novels cheaply?
Nai Sarak is the ideal place if you have great negotiation skills.
Q2)
Is the Daryaganj Market closed?
No, the market has been relocated to Mahila Haat, Chandni Chowk.
Q3)
Which one is the best market to purchase second hand books?
Nai Sarak Book Markat and Daryaganj Market have huge corpus of old and new books.
Q4)
Where can I get books related to IIT and NEET?
Katwariya Sarah (Near IIT Delhi) is known for selling engineering and medical books.
Q5)
Where can I find old NCERT books cheaply?
Daryaganj Book Market offers old text books at super cheap prices.