Delhi, being the capital city of India, attracts bunch of travelers and tourists. Before booking our tickets to a city, we first check the "must-visit" places. There are two sides to Delhi, one would take you to the most expensive hotel and the other would take to the best "paranthe-wali-gali". Win-win, right? Let's list down the best places to visit near Delhi:
India Gate
India Gate was designed by Edwin Lutyens, a British architect who had bagged the architectural projects of New Delhi. You will see the names of the brave soldiers inscribed in the walls of the tall monument. An eternal flame "Amar Jawan Jyoti" lies in the center of the monument. Best time to visit this monument is during early morning. There are various historic places to visit near the India Gate.
Purana Qila (The Old Fort), as the name says, is the oldest monument known in Delhi that was established 5000 years ago and is adorned with beautiful forts, gardens and museum.
Talaqi Darwaza, also known as the "Forbidden Gate" is in the Northern Gate of Purana Qila. The not opening of the gate has a history associated to it. Till the king returns victoriously from the war, the gate was not supposed to be open. As the king passed through it, the gate has never been opened. The nearest metro station to this destination is Pragati maidan. You will also find Ugrasen Ki Baoli, Jantar Mantar, National Museum and a National Zoological Park near the area of India Gate.
Places to Visit near India Gate
Purana Qila
Talaqi Darwaza
Ugrasen ki baoli
Jantar Mantar
National Zoology Park
National Museum
Red Fort
It is one of the historic monuments located in Delhi. The monument has got its name due to the red colored sandstones used for the construction. It is located at Netaji Subhash Road, Chandni Chowk. To reach there you can take the nearest metro station (Chandni Chowk Metro Station). As an Indian entrant you need to pay INR 10 per person.
There are several other places to visit near Red Fort. Jama Masjid, being the largest mosque of India, definitely demands a visit. It is located to the west of Red Fort, off Netaji Subhash Marg. This monument welcomes everybody who wants to pay a visit. You can also visit one of the seven wonders of the world, Taj Mahal also known as the Mumtaz Mahal. It is built in dedication to love, beauty, and life of Mumtaz Mahal. The wondrous monument is built by Shah Jahan along with several workers using white colored marbles which depicts peace and love in the memory of Mumtaz Mahal.
People frequently visit this place! Guess what? Raj Ghat. It is a memorial built to dedicate the legend Mahatma Gandhi. Definitely one pays a visit if he/she is around Red Fort.
Places to Visit Near Red Fort
Jama Majid
Mumtaz Mahal
Raj Ghat
Qutub Minar
Qutub Minar, also spelled as Qutab Minar, is a 73 m-high tower of victory. It was built by Qutab-ud-din Aibak in 1193 immediately after the defeat of Delhi's last Hindu Kingdom. There are several other places to visit near Qutub Minar. Mehrauli Archaeological Park, spread over 200 acres of land in Mehrauli which is adjacent to the Qutab Minar World Heritage site and Qutab Complex. Near to it you will also find Zafar Mahal and Jahaz Mahal rich for its heritage and beauty.
Heard of Bhul Bhulaiya? Here it is! If you are anywhere near to the Qutab Minar, you should definitely pay a visit to Bhul Bhulaiya which is located just in the back of Qutab Minar. It faces the bus stand in Mehrauli. There's a mysterious history associated with this monument where the wedding guests taking shelter in Bhul Bhulaiya went missing. This monument is known for its amazing design of architecture. There are various other places to visit near to Qutab Minar which include the tombs. Adham Khan's Tomb and Tomb of Mohammad Quli Khan. There lies a garden named Garden of Five Senses which is designed to the imagery that the name suggests. Five senses being gift of touch, smell, sight, sound and taste.
Places to Visit near Qutub Minar
Mehrauli Archaeological Park
Zafar Mahal
Jahaz Mahal
Bhool Bhulaiya
Adham Khan's Tomb
Tomb of Mohd Quli Khan
The Garden of Five Senses
Safdarjung Tomb
It is a sandstone and marble mausoleum in Delhi. This domed and arched red brown and white colored structure has an ambience of spaciousness and an imposing presence. There are several other places to visit near Safdarjung Tomb, which includes Sikandar Lodi Tomb, Bada Gumbad, Lodhi Garden and the famous Indira Gandhi Memorial Museum.
Places to Visit near Safdarjung Tomb
Sikandar Lodi Tomb
ada Gumbad
Lodhi Garden
Indira Gandhi Memorial Museum
Humayun's Tomb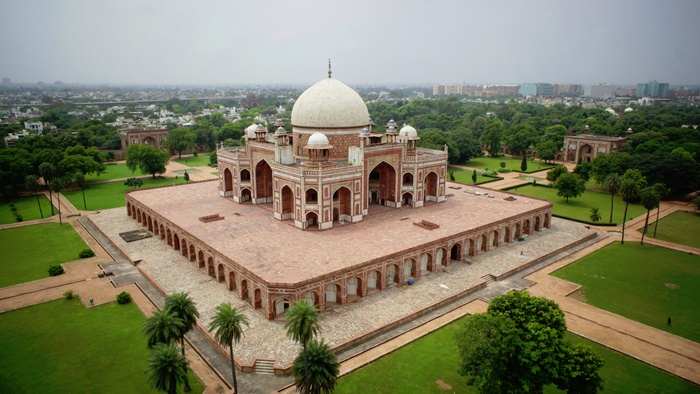 The tomb of the Mughal Emperor Humayun in Delhi. This tomb is known for its beautiful and astound architecture. We have all read about it in our childhood books. There are several other attractive places to visit near Humayun's Tomb. Places like Isa Khan's Tomb, Barber's Tomb, Neela Gumbad, Chausath Khamba, Tomb of Abdul Rahil Khan-I-Khana and the most eye-catching architecture being the Akshardham Temple, ah! What an architectural beauty! These are some of the famous tourist places in Delhi.
Places to Visit near Humayun's Tomb
Isa Khan's Tomb
Barber's Tomb
Neela Gumbad
Chausath Khamba
Tomb Of Abdul Rahim Khan-I-Khana
Akshardham Temple
Lotus Temple
This monument is notable for its flowerlike shape and has become a prominent attraction in the city. It is situated near Nehru Palace and just 500 meters away you will find kalkaji Mandir Metro Station. Places to visit near Lotus Temple lists out to be the famous Iskon Temple where devotees of Lord Krishna gather to worship him. You will also find Kalka Ji Mandir and Tughlakabad Fort near to Lotus Temple. Okhla Bird Sanctuary is also located near the temple which is a famous and interesting place to visit in Delhi.
Places to Visit near Lotus Temple
Iskon Temple
Kalka Ji Mandir
Tughlakabad Fort
Okhla Bird Sanctuary
Hauz Khas Fort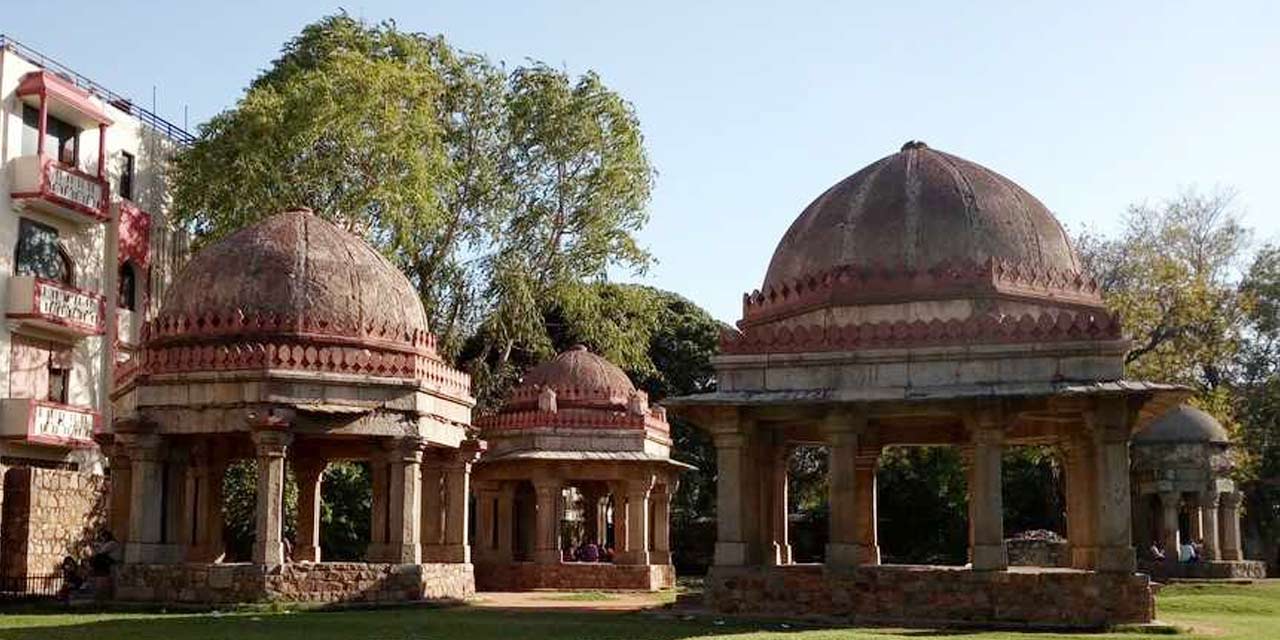 It is located near the Deer Park of the Hauz Khas Village. This ort is known for its beautiful and detailed architecture around the fort. It is open on all the days of the week from 10:30am to 7:00pm. You don't have to pay a penny to roam around the fort. Some of the places to visit near Hauz Khas Fort are Chhatarpur Temple, which is known for its detailed architecture and National Rail Museum which depicts the historic stories of Indian Railway. Barah Khamba and Chor Minar being the historical landmarks in Delhi attracts tourists and locals.
Places to Visit near Hauz Khaz Fort
Chhatarpur Temple
National Rail Museum
Barah Khamba
Chor Minar