Gurugaman City Bus Service in Gurgaon - Enjoy the Uninterrupted Transportation System by GMCBL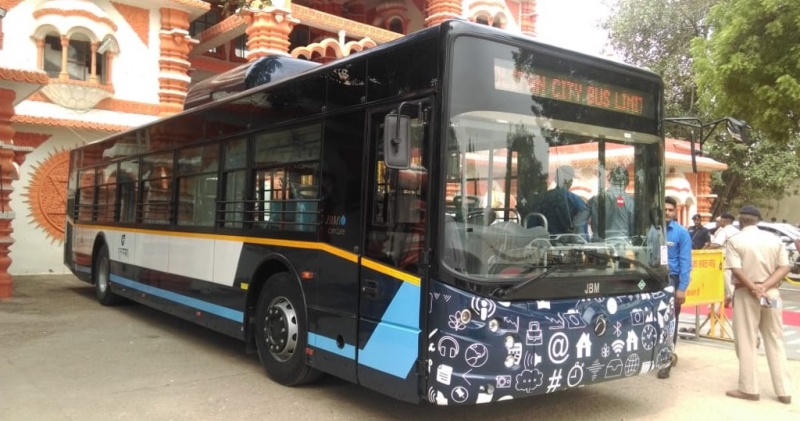 Commuting in buses can be confusing for the best of us. Whether the bus takes you to the place you want it to, or will it take a different route? There's no way to know for sure. Being confused is constant unless you're in Gurugram. But now commuting problem has been simplified through GMDA by their local city bus service in Gurgaon

The GMDA (Gurugram Metropolitan Development Authority) has the power to maintain and improve the status of the city of Gurugram. The GMDA has taken a step to make travelling in buses comfortable which cut down the usage of Auto or Cabs if you're cummuting locally in Gurgaon on daily basis.

Gurugram, formerly called Gurgaon, located near Delhi is known as a technology hub. It is rightly said so, and the commendable efforts of the GMDA have confirmed it. GMDA has made available buses for its locals and the people who wish to visit Gurugram, a website for getting validated information concerning the city buses. To access it, you must visit their website which is easily reachable and very user-friendly.

The GMDA has developed a mobile application for its users. The application has been named 'Gurugaman'. The Gurugaman app can be downloaded from the play store. It presents the users with two options:
Bus
Metro
To get details of city bus routes in Gurgaon, live tracking of the Gurugaman city buses and locations to the nearest bus stop are all given in the app. It is helpful and convenient for passengers. The Gurgaon city bus service has introduced a new Gurugaman route on which the city buses will be functioning, and the GMDA keeps making developments in the system to give the most recent Gurgaon city bus timing to the citizens.

The Gurugaman bus service feature offers the users various benefits like recharging their smart cards quickly or the nearest stop at which they can recharge it. The Gurugaman app offers another feature, the Gurugaman bus timing, this attribute gives us the schedules of departures and arrivals at the corresponding bus stops.
FAQs
Q1)
Where can I recharge my Smart Card?
This service may not be available at every stop. However, you can visit our website or use the Gurugaman application to find the recharge center nearby you.
Q2)
What is the fare for the Gurugram city bus service?
Using the Gurgaon Metropolitan City Bus (GMCB), you can cut your expense for travelling at large. The tickets for our bus services start at just Rs.10 and vary according to the distance of your journey.
Q3)
How Many routes are operating by GMDA?
Total 7 bus routes are operating in Gurugram by GMDA. These routes are as follows:
Route 112: Loop - From 'Krishna Chowk Palm Vihar' to 'Haryana Vidhyut Prasaran Nigam'
Route 212: Loop - From 'Basai Chowk (via Huda City Center)' to 'Basai Chowk'
Route 222: Loop - From 'Krishna Chowk Palm Vihar' to 'Krishna Chowk Palm Vihar'
Route 215: From 'Dundahera' to 'Harsaru Wajirpur'
Route 116: From 'Tau Devilal Biodiversity Park' to 'Dwarka Expressway Chowk, Sector-106'. Introduced on 6th April, 2019
Route 132: From 'Ambiance Mall' to 'Gurugram Bus Stand'. Introduced on 6th April, 2019
Route 111: From 'CRPF Camp Badshahpur to 'Fortis Memorial Research Institute - Huda City Center'. This route was started on 14th May, 2019
Q4)
What is the Gurugram city bus contact number?
Contacting us is quite simple through our toll-free number 1800-180-6627. You can also contact us an email at travelintimegmcbl@gmail.com for any questions or complaints.
Q5)
Where can I find the complete Gurgaon city bus timetable?
The Gurgaon city bus timetable can be easily found and be referred to at https://www.gmcb.in/aboutus/gmcb.html or, you can find it on the Gurugaman application.
Q6)
Bus Fare of Gurugaman City Bus?
For Non-AC Bus
upto 8 km: Rs-5,
upto 16 kms: Rs-10 and
upto 24 km: Rs-15
For AC Bus
upto 8kms: Rs-15,
upto 15 kms: Rs-20,
upto 20 kms: Rs-25.
Q7)
News/Updates about Gurugaman City Bus Service
GMCBL is also planning to extend their service to Delhi as well. In starting phase, 2 new routes (Dhaula Kuan & Dwarka) will be considered, as suggested by GMDA. And parellely, will be extended to Faridabad as well.