Kingdom of Dreams (KOD) Gurugram: The Place of different Indian Culture under One Roof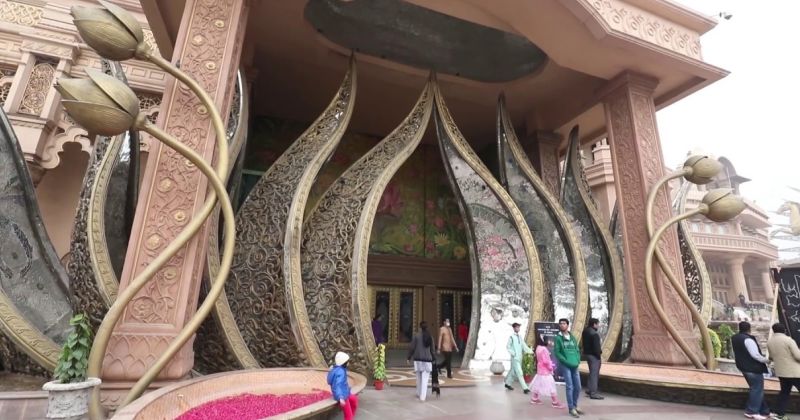 Settled in sector 29, Gurgaon, the Kingdom of Dreams is India's first live theatre, entertainment, and leisure park. Established on 29 January 2010, this fabulous tourist spot spread over a six-acre land. The Kingdom of Dreams owner is the Great Indian Nautanki Company (GINC), a joint undertaking connecting Apra Group and Wizcraft.
It offers the ultimate experience of traditional and contemporary India by its art, cuisine, culture, etc through modern technology.
The amazing kingdom comprises two theatres, the Showshaa Theatre and the Nautanki Mahal. Apart from these two theatres, it has a lavish dining section recognized as the Culture Gully. It's a perfect entertainment pack that offers a wide range of live theatre, shopping, games, dining, arts, etc. India's first skydome in Culture Gully has stalls that cover cuisine and art of fourteen different states.
Sharukh Khan is the brand ambassador of the Kingdom of Dreams, and various other Bollywood stars are connected to this place. The things which make KOD special are musical and theatre productions called Jhumroo and Zangura, respectively.
How can I go to Kingdom of Dreams?
If you are at Delhi International Airport, you can get several cabs and taxis that will drop you at the destination. The total distance from the airport to the Kingdom of Dreams is approx 14 km. You can reach here within half an hour by an Uber or an Ola.
The cab will cost you around INR 500-INR 600. If you want a cheap ride, head to the New Delhi Metro Station and catch the Orange Line metro to IFFCO Chowk, Yellow Line. It would be a low-cost ride but will consume around an hour to reach the KOD.
What is Kingdom of Dreams all about?
As you step inside the Kingdom of Dreams (KOD), you will receive a warm welcome from the magnificent display of art.
Nautanki: Nautanki is an auditorium with a sitting capacity of 864. The hall is well known for popular shows Jhumroo and Zangoora. One needs to buy a ticket before entering. The hydraulic stage with the latest sound system offers some great theatres to the audience. You can enjoy the exorcism of Indian cinema with your loved ones. It also has some food stalls where visitors can enjoy meals and beverages during the interval.
Showshaa Theatre: Showshaa Theatre is a 350 seater hall that offers regular plays, drama, and theatre. You need to buy a separate ticket while entering the Showshaa Theatre.
IIFA BUZZ: The IIFA BUZZ is a Bollywood based theme bar launched by Salaman Khan. The bar is famous for its excellent decorations, ambience, music, and electro effects.
Culture Gully: The Culture Gully offers arts, culture, and food of different states of India. With India's first-ever skydome, the place offers various cuisines to the visitors. The restaurants here follow different themes, and you will love exploring them. Take your camera along with you to capture some beautiful photographs. The Gully has two prime bars known as Maikhana Bar and Kerala Bar. Along with various cuisines, you can also get some shopping items.
Jhumroo and Zangoora At Kingdom Of Dreams
At the KOD, you can enjoy some great musical and cultural shows. The two shows, Jhumroo and Zangoora are the pride and center of attraction of Kingdom of Dreams.
What is Zangoora show in Kingdom of Dreams?
The magnificent musical show, Zangoora is written and directed by the famous lyricist Javed Akhtar. Apart from the direction, the symphonic music is composed by the famous Bollywood composers - Shankar, Ehsaan, and Loy.
The splendid story will lead you to the fictional Shaktishali land, where you will see the success and victory of Zangoora, a gypsy prince. The Kingdom of Dreams Zangoora is a perfect play for kids as they will find some amazing characters and will love their performance.
What is the Jhumroo show in the Kingdom of Dreams?
The musical performance tributes to the evergreen singer of Bollywood, the late Kishor Kumar. The show is produced by Raghbeer Group and Witchcraft International Entertainment and includes the hit songs of Kishor Kumar. The retro tracks with unique technology will make your day. The Kingdom of dreams Jhumroo is a perfect package for the elder as it offers a feeling of nostalgia.
What is the entry fees of Kingdom of Dreams?
The Kingdom of dreams ticket depends on the day and class that you choose.
Weekdays: Tuesday to Friday
| Category | Price |
| --- | --- |
| Diamond | INR 2999 per person |
| Platinum | INR 2499 per person |
| Gold | INR 1999 per person |
| Silver | INR 1499 per person |
| Bronze | INR 1249 per person |
| Value | INR 1199 per person |
| Culture Gully | INR 600 per person |
Weekends: Saturday to Sunday
| Category | Price |
| --- | --- |
| Diamond | INR 3999 per person |
| Platinum | INR 2999 per person |
| Gold | INR 2499 per person |
| Silver | INR 1999 per person |
| Bronze | INR 1499 per person |
| Value | INR 1299 per person |
| Culture Gully | INR 600 per person |
Entry Timings at the Kingdom of Dreams
Monday (closed) Weekdays (Tuesday-Friday) 12:30 PM – 12:00 AM Weekends (Saturday-Sunday) 12:00 PM – 12:00 AM

The place is a perfect weekend package. Hurry up and book a flight or train to Delhi to enjoy a great time with your family and loved ones.
FAQs
Q1)
Is food included in the Kingdom of Dreams ticket?
No, food is not included in the ticket. You have to pay for every food item.
Q2)
Which is better Zangoora or Jhumroo?
Zangoora is perfect for kids, and Jhumroo is fit for adults.
Q3)
What is the best time to visit kingdom of dreams?
The entertainment park runs throughout the year. However, we recommend you to have a visit within October and March.