Lohagarh Farms Gurgaon - Perfect Place for a day trip in Gurugram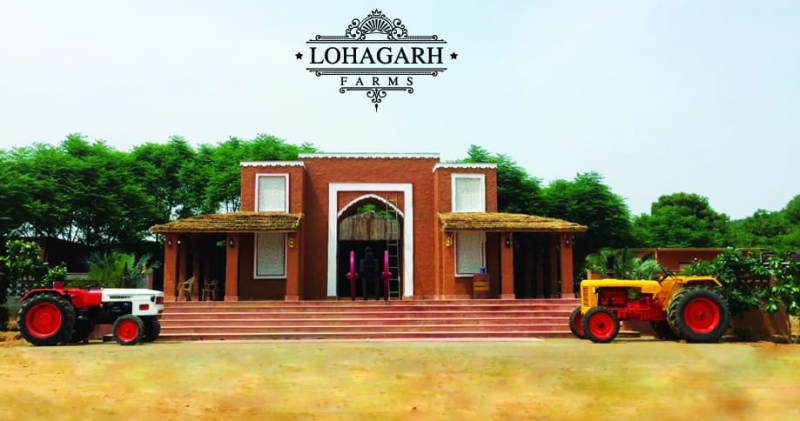 Lohagarh Farms is a serene picnic spot which is located in Gurgaon / Gurugram. A few miles away from Delhi NCR. Lohagarh Farms Gurgaon provides a trip down the memory lanes of your childhood. You will get an authentic ruler experience. It is a place with untouched natural beauty and serenity, where an earthy way of life can still be experienced. It is a very peaceful and refreshing place for which you can have a day off from a busy working life and have fun with your family and friends.
Lohagarh Farms Gurgaon gives you the feeling of your village with fresh, natural air. There are too many fun Games and activity you can do here which will provide you rural experience let you explore the lively culture of a typical Indian village, include delicious village food and exciting Indian traditions and fragrance of rural life.
It is a place where you refresh yourself with head massages and tube well baths. Hanging through sections of a farm like Tarzan and jumping up at the massive trampolines seem like your fun, in the Lohagarh Farms. There is also a local artist at work and folk musicians you can always interact with.
Giving you a video tour of a beautiful village theme picnic spot. There are a lot of activities you can do here check out this Lohagarh Farms video and make a plane of a refreshing trip full of fun and adventure.
Activities in Lohagarh Farms
Games & Sports
Too many classic Indian games and western games you can play to chill out here in a very calming environment under the shadow of trees and natural fresh air. You will get an orthodox Indian village feeling where you want to forget your life. Here are Games you can Enjoy:
Lattoo, Pithoo, Gulli Danda
Kanche (Marbles), Gulel, Dart, Air Gun
Kabaddi, Kushti (Wrestling)
Kite Flying, Tug Of War (Rassa-Kashi)
Cricket, Volley Ball, Badminton
Trampoline, Carrom Board
Chess, Ludo, Sack Race, Matki Phod
Long Jump, High Jump, Cycling
Rural Activities
You are getting tired of your city life full of work. Lohagarh Farm is a place you should come and remember your village. Some beautiful fragrance of nature into your life with activities you ever wanted to do in your town. After doing these activities, you will be happy and proud when you will realize the importance and richness of our traditions and culture. Take a look at some events.
Camel & Camel Cart Ride
Tractor & Bullock Cart Ride
Mehndi, Head Massage
Mud Bath, Tube Well Bath
Charkha, Chakki, Pottery
Pottery Art & Portrait Painting
Dairy Activities
Agricultural Activities
Adventure Activities
If you want to have fun and some adventure activities, you test your strength with all the fun you can imagine. There are some actives you can do here:
Commando Crawl
Tarzan Swing
Burma Bridge, Commando Net
Tent Pitching
Beam Balancing
Cat Walk, Double Rope Bridge
Monkey Crawl, Rope Climbing
Rope Ladder, Hopscotch
Team Building Activities
Too many team building activities that you can do in Lohagarh Farms. So make a weekend plan to Lohagarh Farms; with your team, and have some fun with your colleagues. Some team building activities available at Lohagarh Farms are:
Five Point Star
Confined Soccer
Magic Mats
Vertical Limits
Scout, Clap
Virtual Volley
Tube Potential
Path Finder
Human Ladder
Perfect Square
Lohagarh Farms Experiences and Motive
Lohagarh farm Gurugram gives you the experience of the vibrant culture of typical Indian village with the delicious local food, tradition, and the lifestyle of rural India. Enjoy the meal with the spirit of folk music, dance, and discussing the legendry story of Indian culture around the bonfire.
At Lohagarh Farms, you might get a chance to interact closely with the local communities, hosts, cooks, and craftspeople. When you get in the Lohagarh farm, you will get away from the crowds of the cities and experience a safe & comfortable environment. The revenue that your visits generate from the farm was used to help and support the local communities, art forms, culture, and traditions.
Lohagarh Farms Menu
Lohagarh Farms Food Menu Includes Breakfast, Lunch, Full Day Snacks, and all Minimum activities. Booking should be 50 and above with yummy snacks, exceptional food cooked on MITTI KA CHOOLAH."
Lohagarh Farms Opening and Closing Time
Lohagarh farm timings is open (09:00 am to 06:00 pm) seven days a week. The ticket price is also meager compared to the experience; It also includes breakfast, lunch, full day snacks, and all activities.
Lohagarh Farms Gurugram Ticket Price
Lohagarh farms ticket cost has divided it into three categories: Regular Audlt: Rs-1150 Child: 5 to 10 Years = INR 650 Corporate Group Booking = INR 1000
Contact Number
Phone: 8287-555-000 / 9999-433- 636
FAQs
Q1)
Lohagarh Farms timings?
From 09:00 AM to 06:00 PM
Q2)
Lohagarh Farms Ticket Price?
Audlt: Rs-1150
Child (5-10 Years): Rs-650
Corporate Group Booking: Rs-1000 per head
Q3)
Lohagarh Farms Address?
Lohagarh Farms, Village Gairatpur Baas, Near Bad Shahpur, Sohna Road, Gurugram