Sanjay Van in Delhi - An alluring Place to Visit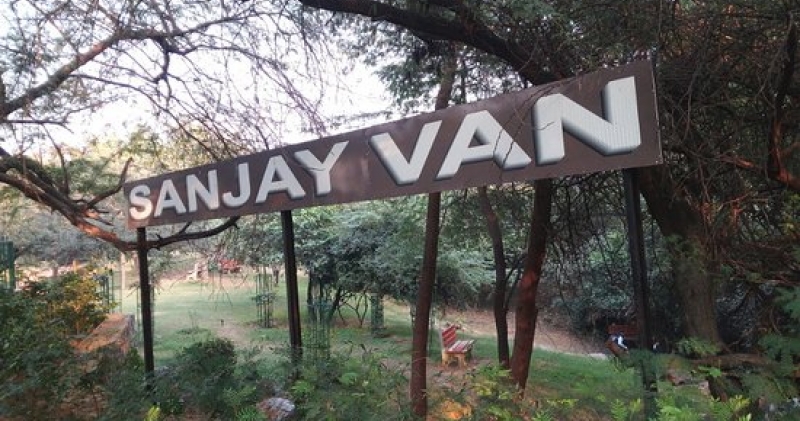 Sanjay Van in Delhi is a stretched out forest area. The Sanjay Van is near Vasant Kunj and Mehrauli. The Sanjay Van covers the area of 443 acres. The forest is rich in flora and fauna. The forest also has its medicinal forest part. Children and tourists visit especially there to appreciate its beauty and learn about flora. Delhi is a populated city and with less greenery around. The Sanjay Van is one of the major parts of the city's lungs. It is a forest area and thickly wooded.

Maintenance by DDA: The flora and fauna in Sanjay Van were depleting fast, which raised the concern for its restoration. Due to this reason, the forest is currently going under restoration through a collaborative effort of a citizen's group called Working with Nature and Delhi Development Authority (DDA). Since 2010, DDA has been working to bring the forest to its original form.

Sanjay Van Lakes or Ponds
Lake/Ponds: There is a lake constructed in Sanjay Van. The lake is around mid-way into the forest. It is an artificial lake created just a few years back. There was polluted water there at first before the creation of the lake. Later, the water was diverted and the lake was created. There are even ducks at the place now so it seems appealing.
The Sanjay Van in Delhi covers the area of 443 acres. It is spread out in a large area rich in various kinds of flora and fauna.

The Sanjay Van in Delhi has five ponds in it. The first pond receives water from the Neela Hauz Lake and treated sewage from Vasant Kunj Sewage Treatment Plant. The water from pond one then flows through pond two, three and four and finally reaches pond five. The water from pond five moves through drain pipes to Hauz Khas Lake where it is used for recreational purposes.

Gates in Sanjay Van
There are in total five gates to Sanjay Van.
The first Sanjay Van entry gate is in the south-west area near Jawaharlal Nehru University.
The second gate is near Gorakhnath temple and one has to travel for 1.370km.
The third gate is near Rockland hospital and travel from there is for around 1.70km.
The travel from the fourth gate is around 3.170km.
The fifth gate is near TB hospital.
Places to visit in Sanjay Van
Watch tower: There is a watching tower in the forest to enjoy the scenic beauty from the top view. It is good for bird watching and enjoying the beauty around. Also, visitors can enjoy bird watching from there.
Lakes/ponds: There are beautiful lakes and ponds around the forest which are rich in natural beauty. One can visit there and enjoy with the loved ones.
Mayur Pahari: There is a place in Sanjay Van around 200 to 300 metres away from gate number 3 called Mayur Pahari. Visitors usually go there and enjoy themselves. They click photos there and have picnics. They can even enjoy rock climbing there as there are several rocks at this place. Some people especially visit there for a photo shoot as well. Even wedding photography takes place at that specific site.
Mehrauli Medical forest: The forest has a diverse variety of medicinal plants. Therefore, a special setup has been set to aware visitors about them. This place is nearby gate number 4 that is near Qutub Minar. The Mehrauli Medical forest point leads to two ways: the one is towards the centre junction of the forest and the second one leads to the main roundabout of TB hospital.

Things to do in Sanjay Van
Here, we have enlisted some of the activities that one can enjoy in Sanjay Van:
Cycling: One can do cycling inside the forest while enjoying the beauty of nature.
Birds watching: Sanjay Van is a gorgeous place for bird lovers. There are varieties of birds that can be seen in the forest. Some rare birds can also be seen there.
Rock climbing: Visitors can also enjoy rock climbing at Mayur Pahari. There are several rocks at the place and one can enjoy it there.
City view: Another fun thing about Sanjay Van is one can enjoy the city view from the watchtower. The beautiful nature around and city view is itself a good combination.

How can one reach Sanjay Van?
There are two ways to reach Sanjay Van i.e. by road or metro.
By road: The forest is situated on the Delhi- Nainital road. One can take either a bus or cab to reach there. Another option is to go by own vehicle. One can park the vehicle in front of gate number three that is near Rockland hospital.
By Metro: There are five nearest metro stations to Sanjay Van Delhi, within the range of two kilometres.

Qutub Minar Metro station
Rk Puram Metro station
Lit Delhi Metro station
Saket Metro station
Malviya Nagar Metro station.
If one is going by his own vehicle then he can park it in front of gate number three near Rockland hospital.
Timing and entry ticket
Timings: Sanjay Van entry timing is opening up at 6:00 am and closing at 8:00 pm. Also, Sanjay Van Delhi at night remains closed. There are guards on the gates at night so that no one can enter.
Open days: The Sanjay Van is open for the whole week that is including Sunday.
Sanjay Van ticket price: The Sanjay Van Delhi entry fee is Rs. 50 per person for boating fees. The entry fee is charged as the official price for entry in the Van. It includes the charges for boating as well.

Facilities available in Sanjay Van
There are various facilities in the forest such as drinking water facility, toilets. There are benches available so that visitors can relax for some time as well. Also, there are boards all around the way to guide visitors.

Is Sanjay Van a haunted place?
The Sanjay Van is considered as one of the haunted places in Delhi. There is a story about Sanjay Van in Delhi. It is believed that there are graves of Sufi saints in the forest and also broken ramparts of Qila Rai Pithora. Local people say that they have felt the presence of something around them. Some also claim that they have heard laughter and cries out of nowhere when they are alone in the forest. Some people even say that they have seen a lady in white saree who disappears in the air all of a sudden.

The Sanjay Van Delhi haunted story is that there is a road going through the forest. People have seen a lady in white around it who seeks help. She only appears at night and the crazy part about is if someone stops, she vanishes in the air. She is seen walking through the forest or sitting along the road asking for a lift. Some people even say that they have seen her running after their vehicles if they do not stop for lift. The spookiest of all is that some people say that they have seen her sitting on the tree above and looking at them with her dead and cold eyes. Though, there is no solid proof of the existence of ghosts there. It can be a myth as well.

It is difficult to go through the whole forest in one single day. But one should surely take out time to appreciate the beauty of nature.
Sanjay Van Address
Near to Medeor Hospital or Near JNU. Here is the Sanjay Van map or direction- Click here
FAQs
Q1)
Where is Sanjay Van in Delhi?
It is located near Vasant Kunj and Mehrauli.
Q2)
Which metro is nearest to Sanjay Van?
There are total of five nearest metro stations around Sanjay Van. These are Qutub Minar metro station, RK Puram Metro station, lit Delhi Metro station, Malviya Metro station and Saket Metro station.
Q3)
Which is the nearest gate for parking if one goes by car or bike?
Gate near Rockland hospital