Cheap, Branded, and Stylish Shoe Markets in Delhi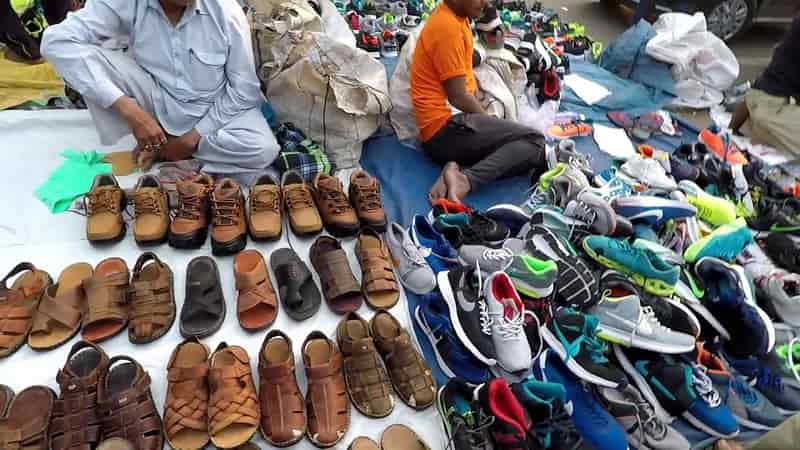 Including clothes, food, and tourism, Delhi offers some great shopping experiences to people from all across the world. The Delhiites go crazy during weekends and rush to some famous markets to grab items at cheap rates.
Nowadays, various shoe markets in Delhi have gained a lot of popularity. If you are thinking of buying some branded shoes at the lowest cost, head straight away to these shoe markets and have a look at their extensive stylish-branded shoe collection.
6 Famous Shoe Market in Delhi
1. Ballimaran Market, Chandni Chowk
In terms of market, Chandani chowk has forever topped the list of best markets in Delhi. Also known as the ballimaran market, the shoe market in Chandni Chowk has replicas and a second copy of branded shoes such as Puma, Nike, Adidas, etc. The footwear shops in Chandni chowk offer quality shoes and footwear at a cheap rate. The collection is worth it, and the lanes are constantly full up of college students. Don't judge the replicas because these are as same as the branded ones.
Try to visit the market early in the morning, as the branded collection gets over quite fast.
Open & Closing Timings: 9:30 AM to 8:00 PM (Sunday closed)
Nearest Metro Station: Chandni Chowk
Famous for: Sneakers
2. Tank road shoes market, Karol Bagh
The famous "Gali Number 4" is a large shoes market in Karol bagh and something you can not miss when it comes to stylish footwear. The Gali is well known to the locals, but outsiders are mostly unaware of this Gali. Apart from the first copy, the footwear shops in Karol Bagh have some original footwear at the lowest cost. From showrooms like Venus steps and Metro Shoes to roadside shops, you can find varieties of sandals, juttis, daily wear, especially for women. Never miss a chance to visit the Pappu Punjab Jutti shop when you are in Gali Number 4.
Open & Closing Timings: 10:00 AM to 8:00 PM (Monday closed)
Nearest Metro Station: Karol Bagh
Famous for: Pumps, flat sandals, and sneakers
3. Palika Bazar
To all the ones looking for shoe markets in Delhi, especially the sports shoes wholesale market in Delhi, Palika Bazar is the king of all the shoe markets. The underground market in Connaught Place is a famous sports shoe market in Delhi.
The shops here are full of stilettos, branded sneakers, shoes, etc. You can easily shop discounted rate branded shoes without being disturbed by the city's heavy traffic and rush.
Open & Closing Timings: 10:00 AM to 8:00 PM (Sunday closed)
Nearest Metro Station: Rajeev Chowk
Famous for: Sneakers, stilettos and sport shoes
4. Chappal Wali Gali, Sadar Bazar
The Chappal Wali Gali in Sadar Bazar could not be ignored when it is about the best wholesale shoe market in Delhi. Despite lacking the glamor compared to Delhi's hi-fi shopping mall, the Gali is a wholesale shoe hub. With tons of retailers and shops all around, you can find a heavy crowd throughout the day. It is famous for its leather shoes and other items such as jootis, flip-flops, sneakers, etc. When it comes to the cheap shoe market in Delhi, the Chappal Waali Gali will never disappoint you.
Open & Closing Timings: 8:00 AM to 10:00 PM (Sunday closed)
Nearest Metro Station: Sadar Bazar
Famous for: Leather shoes, sneakers, flip-flops, jootis
5. Mahipalpur Factory Outlets
If shoes like Reebok, Puma, Adidas, Woodland are on your wishlist, just go to the famous Mahipalpur Factory outlets to complete your wishlist. As the factories here are always full surplus stock, you can easily purchase the branded shoes and footwear within a few pence. You might think that how can one sell branded shoes at such a low rate. But trust us, it is the top-class wholesale branded shoes market in Delhi. You can grab branded shoes at a discount of about 30 to 40%. This sports shoes market in Delhi is especially for those who are regular customers of sports shoes and love to purchase them now and then.
Open & Closing Timings: Depends on specific factories, try to visit the place between 10:00 AM to 6:00 AM
Nearest Metro Station: Delhi Aero City
Famous for: Sports shoes
6. Lajpat Nagar
Maximum Delhiites prefer to go to Lajpat Nagar shopping for clothes, shoes, and other items at a massive discount. The Lajpat Nagar shoe market in Delhi is well known for Kohlapuris, heels, formals, flip-flops, and much more. You will be tired while checking the list of designer and fashionable shoes. It is a well-known ladies footwear wholesale market in Delhi and is quite famous in terms of bargaining. So if you think yourself to be a master in bargaining, visit the place without hesitation.
Open & Closing Timings: 10:00 AM to 9:00 PM (Monday closed)
Nearest Metro Station: Lajpat Nagar
Famous for: stylish heels, kolhapuris, sandals, formals
These shoe markets in Delhi will never let you down and blow your mind with varieties of stylish and branded shoes. Cheap in rate and high in quality, these shoes or footwear are best for daily wear, office, parties, events, etc.
For safety reasons, we recommend you all to carry the money in your pockets. Avoid carrying wallets or purses as these markets have several pocket pickers and thieves.