Head to these Wholesale flower market in Delhi and Grab some fresh Roses, Lilies, and Orchids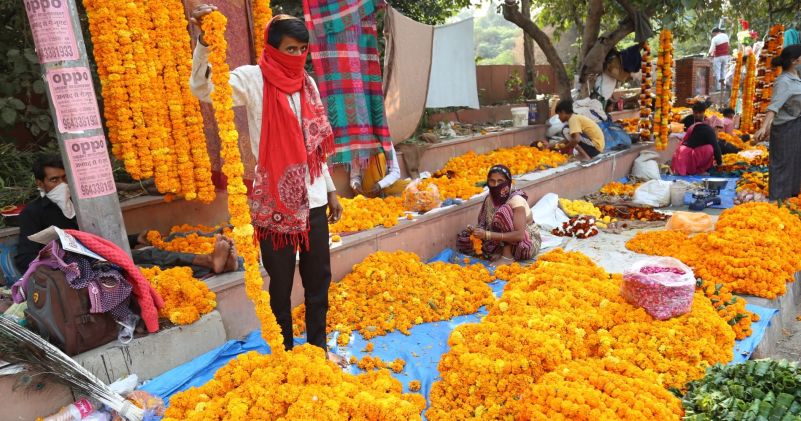 Delhi has always been a tourist attraction and is well known for its various versatile wholesale markets. Apart from various historical monuments, heritage sites, street foods, it also has an extrinsic and fancy side. As always, today we are here to show you the list of some crowded flower market in Delhi. If you have an upcoming event, say a wedding, birthday party, anniversary, go and grab some fresh and beautiful flowers from any of these markets.
These markets not only save your pocket but also provide you with a wide range of Roses, Lilies, Orchids, and much more. You can buy cheap rate flowers for weddings, festivals, home decor, poojas,etc. The state has two of the biggest flower markets, the Ghazipur flower market and the one in Connaught Place. Apart from it, you can find other markets in Chandni Chowk, Lado Sarai Mandi, Kisaan Phool Mandi, etc. But these markets lack some of the flowers, such as roses and marigolds. Here is the list of the wholesale flower market in Delhi that will definitely offer an amazing experience of shopping and photography.
Flower markets in Delhi
The Connaught Place flower market
Also known as the phool mandi, the flower market in Delhi CP is one of the largest flower markets in Asia. Buyers here can find tons of flowers imported from Bangkok, Thailand, Holland, etc. The local races hold varieties of flowers from Maharashtra, Bengaluru, and Kolkata. Not just flowers but the shops here also poses additional stuff such as gift baskets, foliage, bouquet, silk flowers, and much more.
Perhaps, artificial flowers, reeds, and bamboo species have also managed a spot in the market. The Phool mandi in Delhi in Delhi got its origin from Mr. Brij Mohan Khanagwal in 1995, and today it conducts a daily business of approx Rs. 3o lakh. The roadside tea vendors keep the market busy throughout the day.
Nearest Metro station - Rajeev Chowk (blue line)
Opening & Closing Time - 4:00 AM to 9:00 AM, though you can find flowers at some of the shops till late evening
The Fatehpuri flower market
The Fatehpur flower market is the oldest Delhi Flower Market, established nearly 80 years back. The market is next to the historical Fatehpuri Mosque, next to the oldest spice market. It is also known as Genda Phool Mandi as the marigold flowers are the prime attraction here. The market contains markit/setki, ashok patti, bijli phool that goes to all other small mandis of the country.
The market starts before the sunshine and gets closed within a few hours and still makes a crore of business in such a time. In the present time, various marketers have shifted to the Ghazipur Mandi, and the traditional Fatehpur flower market in Delhi is losing its essence.
Nearest Metro station - Chandni Chowk (yellow line)
Opening & Closing Time - 4:00 AM to 9:00 AM
The Mehrauli flower market
One of the popular and oldest Flower mandi in Delhi, Mehrauli market is just opposite the Mehrauli Archeological Park. It is among the famous flower markets but has now lost its soul as the maximum business has shifted to Ghazipur. Still, you can find varieties of lotus and marigolds during the festive season. Apart from the festive season, you can find usual flower sellers and shops selling bunches of flowers and bouquets. The fresh colorful flowers at a cheap rate would make your day.
Nearest Metro station - Qutub Minar Metro Station (yellow line)
Opening & Closing Time - 7:00 AM to 8:00PM
The Ghazipur flower market
The Ghazipur flower market in Delhi is one of the biggest wholesale flower markets in Delhi. A perfect place for botanists and photographers that has tons of flower stalls step by step. But the origin started from Mehrauli and then after the market shifted to Ghazipur. And in the present time, it is the latest point for retailers, florists, wedding vendors, and roadside flower sellers. You can find an extensive range of orchids, roses, carnations, lilies, rajnigandha coming from China, Holland, India itself, and other South Asian nations.
There is a massive hustle during the festive season, and you get bunches of flowers at every stall. The flowers traded in the mandi are at the one-fourth rate compared to a retail flower shop and even cheaper as the quantity gets higher. Winter is the ideal season as the variety booms from the month of September.
Nearest Metro station - Anand Vihar ISBT (blue line)
Opening & Closing Time - The market starts from 3:00 AM, but we recommend you to reach there latest by 7:00 AM.
One may easily find an artificial flower market in Delhi, but the above-mentioned famous flower market around Delhi is something you would regret missing. For years, Delhi has had the most flower trade, and various countries' sellers depend on these markets as they get flower mandi rates in Delhi. The hustle-bustle flower markets have always been the soul of Delhi that attracts retailers, tourists, and photographers. Moreover, if you are a Delhiite, you can plan a weekend trip with your loved ones and buy some fresh and colorful flowers for your home decor.
FAQs
Q1)
What are some famous wholesale flower markets in Delhi?
Ghazipur flower market, Connaught Place flower market, Fatehpuri Phool mandi, and Mehrauli flower market are the biggest wholesale flower markets in Delhi.
Q2)
What is the best time to visit these flower markets?
All the markets start from around 4:00 AM, but the ideal time is to visit them is 7:00 AM to 9:00 AM
Q3)
Do all these flower markets provide a wholesale rate?
Yes, one can find varieties of fresh, colorful, and imported flowers at one-fourth rate of the retail flower shop