Zoo in Delhi - Complete Guide for a Memorable Experience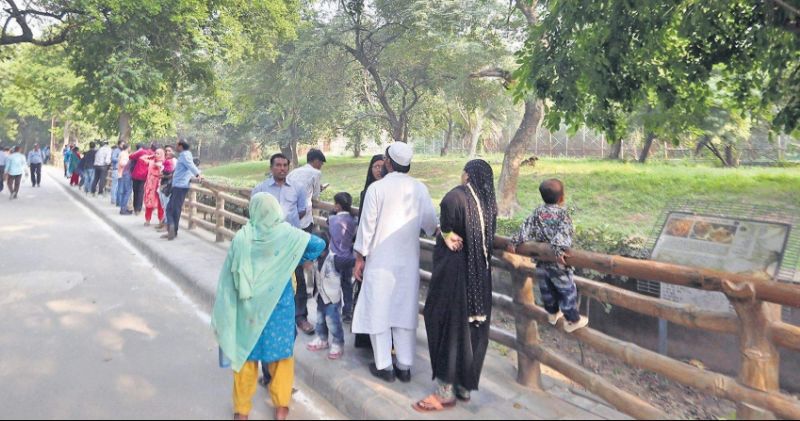 The effective way to observe animals and their wildlife is vital but it is not good to do the same through safari options. But the best way to educate the little ones about their wildlife is by planning a trip to the zoo.
If you are going to travel to Delhi, then it is an amazing chance for you to keep the tot entertained and go for a trip to the zoo in Delhi, also known as chidiyaghar as it is fun as well as educational.
Situated a minute ago from central Delhi, close to Pragati Maidan and it covers around 176 acres that is home to around 1, 350 animals, and about 130 species of birds from across the world. There is also the presence of a citadel from the sixteenth century and boating in the lake. Let us know more about the Zoo in Delhi below.
Know about National Zoological Park, Delhi
Established in 1959, the National Zoological Park is also labelled as "ChidiyaGhar" that is situated near Delhi's The Old Fort and is a favourite weekend spot for adults as well as children. The place is well-organized and it is widely visited by tourists from all corners of the world.
It has some canteens for the travellers and the vehicles are available inside the zoo that can be hired in case of tiredness, these are battery-operated. But the actual fun is to explore the place by walk and visit all the destinations to excite your curiosity in the furry kins!
Ranged from cats to the tiniest birds, the zoo in Delhi has all types of animals as well as birds.
In the beginning, it was called Delhi Zoo and after that, the zoo was renamed as The National Zoological Park in 1982 with the idea of labelling it as the model zoo of the nation, India.
At the Zoo Park, the animals, as well as birds, are residing in an atmosphere that matches their natural habitat to a great extent. The zoo is not only home to the endangered animals but also assists them to captivate the breed.
Various programs organized by Delhi zoo
It has various programs organized such as:
Conservation Breeding Programmes belongs to Asiatic Lion
Brow Antlered Deer
Indian Rhinoceros
Royal Bengal Tiger
Swamp Deer
Red jungle fowl.
Eventually, they thrive in the wildlife once again. A wide range of animals are living in a zoo in Delhi such as Gir lion, hippopotamus, zebras, giraffe, African Wild buffalo, and leopard, these can be seen in the zoo. There is an underground home for reptiles which includes Gharial, Marsh Crocodile, the Indian Sand Boa, Indian Cobra, and Indian Star Tortoise.

Numerous species of animals and birds are also there such as Peafowl, the Barn Owl, Emu, grey Hornbill, and Sarus Crane.

These are all about the zoo in Delhi and it is high time to get into the facts we have to be aware of related to it.
Fast facts
Here, we have some fast facts related to the zoo in Delhi timings and ticket price which would be helpful for you to get all desired at a glance at the popular zoo park in Delhi. In addition to this, this will create a lot and it is convenient for you.
1. Opening time of Delhi Zoo
The Delhi zoo time varies in different quarters of the years and it remains closed on some holidays and specific days of the week. Take a peek at the holidays below.

From 1st April to 15th October, ranges from 9 am to 4:30 pm. From 16th October to 31st March, open from 9 am to 4 pm. Closed on national holidays and Fridays
2. Entrance Fee
There are differences in entry fees for both Indians as well as Foreigners. Let us have a look at the Delhi zoo ticket price below.
For Indians, the fee is INR 40 for adults and INR 20 for children with the age of five years and more.
For foreigners, the fee is INR 200 for adults and INR 100 for children with the age of 5 years and above.
3. How to reach Delhi zoo?
As we have mentioned earlier, the zoo is located in the capital of India, so here are some ways how to reach there.
Nearby International Airport: named as Indira Gandhi International Airport
Nearby railway Station: named as Nizamuddin Railway Station.
Delhi zoo nearest Metro Station: Pragati Maidan Metro Station (2 kms)
Nearby bus stop: local buses from different spots
It is easy to visit the zoo in Delhi as it is highly accessible.
4. Best time to visit
The best time to visit the zoo in Delhi is the winter season.
Animal list in Delhi's ChidiyaGhar
Here is the Delhi zoo animal list. As get entered into the National Zoological Park, then you will see fascinating creatures and their natural habitat in wildlife. Some animals include Hippopotamus, Asiatic Lion, Brow Antlered Deer, White Buck, Hoolock Gibbon, Spider monkey, Swamp Deer, One-horned rhinoceros, wild boar, jaguar, zebra, Deer Brow, Chimpanzee, Himalayan black bear, Indian Rhinoceros, Blackbuck, Leopard, and Indian Porcupine.
On the other side, there is an ample number of birds such as Stork's spoonbill, great Indian hornbill, and eagles are also there. It has around 1347 animals and bird species of 127 in 2008.
What not to do in Zoo in Delhi?
Here are some things not to do at the Delhi zoo which we have enlisted below.
Don't feed the animals as they have different habitats and it affects their health.
Don't tease animals or pass the barriers as you can get some serious injury.
Do not pluck any flowers, trees, or any lawns inside the park.
Don't play radio, musical instruments, or tape recorder as it might be disturbing for animals.
Do not bring either polythene or packets in the park.