Business Nature:- Service Based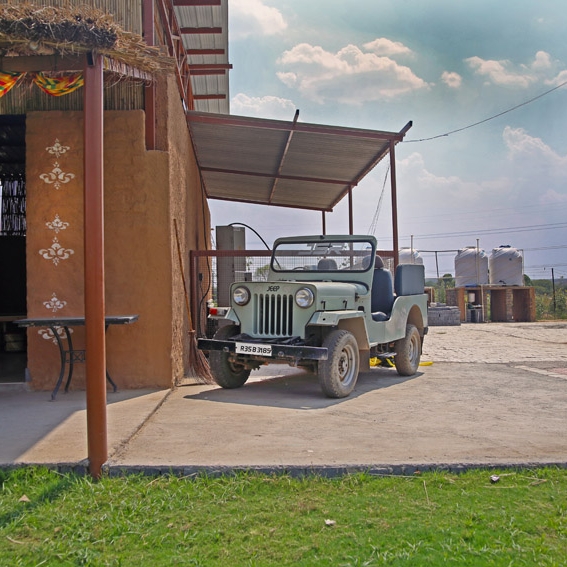 Madhavgarh Farms located in Tikli, Near Badshahpur, Gurugram, is a place that offers great views and fun activities. The scenic place has everything a person would need to have a good time. It's one of the best Picnic Spots Near Gurgaon where you can relive some of your childhood games by involving yourself in the fun activities that most people used to do during their childhood. The property is only 16km far from the famous MG road in Gurgaon. It's a great place to host some successful events, parties, or grand affairs. It has all the possible amenities along with a good ambience to celebrate your happiness.
The property is surrounded by a beautiful Aravalli range and has a very vibrant Rajasthani vibe. The nearest metro station which is Huda City Metro Station is approximately 30 km far from this place and you need to take another vehicle from there to reach the spot. So, if you are coming here with your family it would be good if you hire a vehicle for the day or take your own vehicle on the spot. It's a good place to get in touch with the natural environment and feel the cultural Indian vibe. Madhavgarh Farms booking can be done online from their official site or the partner websites.
Madhavgarh Farms Food Menu & Timings
Apart from fun and adventure, you can enjoy the delicious food here cooked with pure love by experienced chefs. The staff here is very supportive and they assist you in every possible way to make the trip comfortable for you. Take a look at the Madhavgarh Farms Menu here:
Welcome Drinks - Lemonade, Chaas
Breakfast - Tea, Aloo-Puri, Poha, Achar, Chutney, Dahi, Chaas & Sooji Halwa
Lunch - Makhan, Ghee, Shakkar, Gud Chutney, All Bread, Green Salad, Shahi Paneer, Dal, Hara Saag, Rajma/Chhole, Kadhi, Khichdi, Rice, Makka Roti Gehun Roti, Bajra Roti, Raita & Noodles
Evening Snacks - Tea & Mix Pakoda, Hara Bhara Kabab, French Fry, Shakkar Para 
Desserts - Kheer, Malpude
Madhavgarh farms Gurgaon timings are 09:00 AM to 05:00 PM, but there is an option for the travelers to stay at the property overnight. You can get comfortable rooms and great assistance from the staff if you are renting them. Now in the overnight stay, you will be served breakfast, lunch, evening snacks, dinner, and the next day breakfast. Madhavgarh farms night stay would cost you around RS. 6,999/- per night for two persons where all the meals and activities are included.
Popular Facilities At Madhavgarh Farms
Free private parking
Free Wifi
Pet friendly
Room amenities
Swimming pool
Kitchen room
Flat Television
Comfortable outdoor seating
Heating/Air conditioning
Banquet Area
Types of Activities At Madhavgarh Farms
Games/Sports Activities - Cricket, Volleyball, Trampoline, Air gun, Archery, Badminton, Chess, Carrom, Tug Of War, Wrestling, Marbles, Kho-Kho, Kabaddi, Ludo, Dart.
Rural Activities - Mud Bath, Tubewell Bath, Camel ride, Bullock Cart ride, Charkha, Pottery, Painting, Animal feeding, Bird feeding.
Team-Building Activities - Human Ladder, Pathfinder, Scout, Vertical limits, Confined Soccer, Magic Mats, Perfect square, Five-point star.
Instructor-Led Activities - Spider web, Pass the ring, Stepping stones, Balloon race, Ball Balance, Plank walk.
Adventure Activities - Rope climbing, Commando crawl, Commando net, Burma bridge, Beam balancing, Woody wave, Tarzan swing, Zipline.
Usually, people make comparisons like Madhavgarh farms vs Lohagarh farms, and maybe this is because the Lohagarh farms are more famous. This does not mean that this farmhouse is on the lower side. All the possible amenities and facilities along with good service are catered by Madhavgarh farms and you will have an adventurous day here for sure. This is one of the places to visit near Delhi with your family, friends, colleagues, staff, or batchmates.